ABOUT THE SOCIETY
Welcome to the website of the Bearspaw Historical Society. The Society was formed in 1973 by residents who wanted to save the historic 1920 Bearspaw School from destruction and have it serve the community in new ways. That mission was accomplished and the objectives of the Society are now to document, commemorate, and celebrate area history.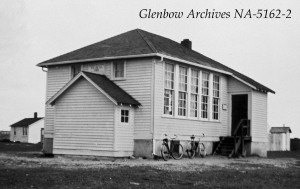 The 1920 Bearspaw Historic School Complex. (©Elisa J. Hart and BHS)
Schoolhouse in Bearspaw School District No. 3851, Calgary area, Alberta, ca. 1940s (Glenbow Archives NA-5162-2)
SCHOOL ORAL HISTORY PROJECT
An oral history project on the 1920 Bearspaw School began in 2009. The project has expanded to include the four former area schools including Glenbow, Bearspaw, Glendale, and Westminster Schools. Click to learn more.
Visit our Facebook page here.
WHERE WE WORK
The Society carries out its work in the historic Bearspaw, Glendale, Glenbow, and Westminster School Districts that are located in beautiful Rocky View County, Alberta. The area is roughly between the City of Calgary to the east, the Town of Cochrane to the west, highway 567 to the north, and the Bow River to the south.  

THE FOCUS OF OUR WORK
The focus of the Society's work has been to save the 1920 Bearspaw School from destruction by moving it to its new location in September 2002. Renovation of the school was completed by November 2004. The school teacherage was located on a local farm and moved to the new site, with renovations completed by the fall of 2006. The old school barn could not be located, so a replica of it was completed in late 2011. The result is that the Society has preserved and presented examples of the historical architecture of the area.  Through "adaptive re-use" of these buildings the Society provides affordable rental space to community groups.