1920 BEARSPAW SCHOOL ORAL HISTORY PROJECT
After completing the move and renovation of the historic Bearspaw School and teacherage it was time to start learning more about the school through an oral history project. Interviews were done with some former students who had attended the school between 1930 to the early 1950s, and one former substitute teacher. A few Society members also participated in interviews focused on documenting the process of moving and renovating the school. Elisa Hart was the primary researcher and Society President Louise McAuley participated in some of the interviews. The results are reported in The 1920 Bearspaw School Oral History Project Report — 2011, Phase One (1920s to the Early 1940s). Interview transcripts were produced, some archival documents related to the school were found, and many photographs were taken of participants from the school days, or that depict the rural way of life in Bearspaw in times past. An old fashioned tea party was held to celebrate the end of the project and to thank the participants and those who helped in other ways such as being on the report review committee. 
Thank you to everyone who participated in the project!
The Bearspaw Historical Society is also thankful to the hard work and dedication of the Glendale Women's Institute who book Taming the Prairie Wool, published in 1965, provided an essential foundation of knowledge that we could learn from and seek to build upon through our own work.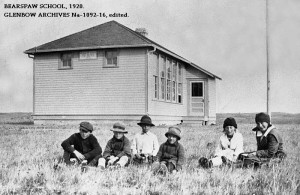 Bearspaw School, 1920, the year that the school was opened. The child third from left is Bill McNeill and the others are unidentified. (Glenbow Archives NA-1092-16, creases in the photo have been edited out)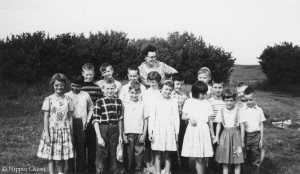 Bearspaw School students in the early 1960s. (© Nipper Guest)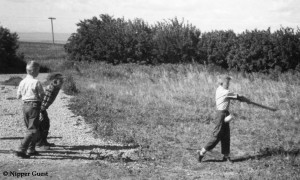 Boys playing baseball at Bearspaw School in the 1963. (© Nipper Guest)
The Bearspaw Historical Society greatly appreciates the support provided for this project from the Alberta Lotteries Fund and the Government of Alberta.